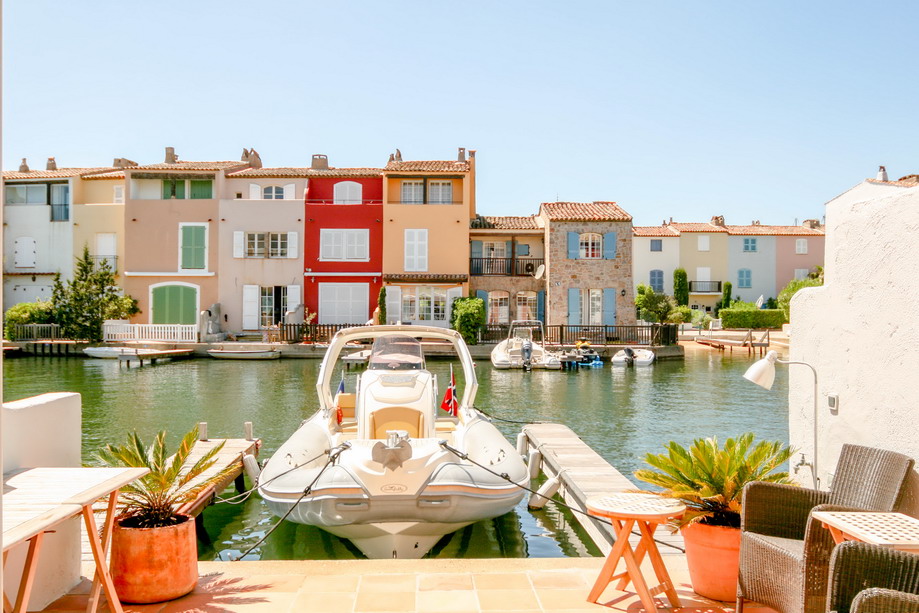 Playing host to the up-market estates of Beauvallon and Guerrevieille, as well as the famous "lagoon city" of Port Grimaud, Grimaud benefits from an untarnished reputation thanks, in particular, to its exemplary management and ideal location on the Gulf of Saint-Tropez.
Grimaud and Port Grimaud – exceptional micro-markets – nestling on the hills above the Gulf of Saint-Tropez, Grimaud and its nearby "lagoon city", Port-Grimaud, designed by architect François Spoerry, draw thousands of visitors each year.
The Select Immo agency, based since 1992 on Place Vieille at the heart of the village of Grimaud, and the Agence Alpha, specializing for over 40 years in the Beauvallon-Guerrevieille area, have decided to merge into a single entity. Jean-Philippe Manzon and Valérie Mourgues, who run Alpha Select Immo, propose a property portfolio covering the entire Gulf of Saint-Tropez, as far as La Garde-Freinet, Le Plan-de-la-Tour and Gassin. The Beauvallon-Guerrevieille area is largely comprised of high-end gated estates with detached or terraced houses, the majority offering breathtaking views of the Gulf of Saint-Tropez."Our clientele is shared out evenly between French and foreign buyers. The majority are looking for holiday or semi-permanent homes. They currently benefit from a wide choice, as we are seeing a natural renewal of the cycle : numerous owners who acquired properties in the 1970's or 1980's can no longer take full advantage of them, and many sales also result from inheritances. There is thus a generous choice of properties to modernize, or even demolish," says Jean-Philippe Manzon, an expert on this area. Starting-prices ? "From 800,000 €, one can target a house to renovate, without a sea view. However, most of the properties we present exceed 1 million euros, with the most exceptional attaining 15 million euros. Rare apartments in terrace houses are priced from 320,000 € for about 60 m2." Relatively healthy, this micro-market is sometimes rather murky due to exaggerated asking prices. "Totally overvalued properties can stay on the market for several years. It is important to work with real specialists," advises this professional, whose motto is "Wishful thinking is not real worth !"
Launched over 50 years ago, Logi Service is the oldest-established agency in Port Grimaud, the famous "lagoon city" nicknamed the "Venice of Provence". With its colourful facades, narrow streets full of charm, its canals and beaches, Port-Grimaud, at the far end of the Gulf of Saint-Tropez, is a unique maritime village highly-prized by boat-owners from all over the world, as most of the houses and apartments here come with their own moorings. "The market is always lively, and houses renovated in today's taste and benefiting from wide and long moorings – of over 16 metres – are the most sought-after," explains Elisabeth Morice, manageress of Logi Service. Comprised of north Europeans, including Germans making a comeback to this market, the agency's international clientele benefits from a rather generous choice, as well as stable prices. As an example of her recent sales, Elisabeth Morice mentions a tastefully renovated house of 85 m2 offering a very beautiful view and a large boat mooring. A German client has just acquired it for 1,350,000 €.
Port Grimaud holds no secrets for Virgile Dolla, manager of the New Place agencies, the second of which recently opened its doors in Port Grimaud South. "Treat your boat to a house" is the motto of this agency specializing in this marina, which chalked up very positive results in 2018 and forecasts the same success in 2019. "Benefiting from an attractive image, a wide reputation, and acclaimed for all its services guaranteeing security and serenity for its residents, Port Grimaud is a Community Resort based on confidence and a transparent market. We are seeing excellent turnover in all the various segments, enabling us to offer a varied choice of quality properties ranging from studios to houses of different sizes, and garages priced from 40,000 €," says Virgile Dolla, whose clientele consists of many foreigners, mainly Swiss, German, Belgian, Dutch and English. Looking for seaside holiday homes, they are offered a well-balanced array of properties with or without moorings. "The largest and most prestigious houses can attain prices over and above 3 million euros, and the market is now healthy thanks to prices reflecting those of actual sales." By way of example, Virgile Dolla mentions a renovated "Fisherman's house" of 90 m2 on three floors. Close to the beach, with an 11-metre boat mooring, it is on offer at 1,190,000 € ; and a light and airy 2-bedroomed apartment of 56 m2, also with an 11-metre mooring, priced at 425,000 €.
Source : https://www.housesandapartments.fr/en/the-real-estate-magazine-grimaud-and-port-grimaud-exceptional-micro-markets-1787_1.html