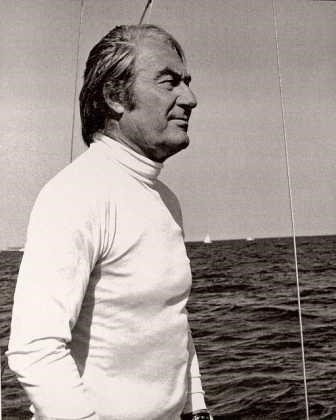 From PORT GRIMAUD in the south of France to Port Liberty in New Jersey and Port Louis in Louisiana in the United States with a detour through Mexico to Puerto Escondido, while traveling the French province from Port-Cergy to Amiens and passing through by the island Sardinia in Porto Cervo, the french architect François Henry SPOERRY has realized his work all around the world. Architectural works encompassed mainly by the theme of the sea, his first passion.
Coming from a family of textile industrialists in Alsace, François choose an artistic path and prepare for the entrance of the Beaux-Arts in Strasbourg in the 30's. Between 1932 and 1934, he became the assistant of Jacques COUËLLE – an architect and a DALI and PICASSO's friend linked to the so-called sculpted movement, or instinct movement – for 2 years. The young SPOERRY will be awarded first at the Beaux-Arts Competition in 1936 and will continue to study architecture at the Ecole des Beaux-Arts in Paris in 1939. He will finish his artistic studies and be graduated from the School of Fine Arts in Marseille in 1943 when he will be 31 years old. It was after receiving the teaching of Professor Eugène BEAUDOIN – architect and urban planner, forerunner of the modern architecture of the inter-war years and professor at the School of Fine Arts in Marseille – that François SPOERRY obtained his diploma. 
However, he had to deal with hardships in life since François SPOERRY did not escape the second world war, he was deported as a resistant. It is in his cell that he will draw "his house in PORT GRIMAUD" … So, after drawing his first sketches of construction on the walls of his cell he will open his architectural practice in his hometown: Mulhouse. The experience of the camps will teach him to distinguish the accessory with the essential, as he himself said. His first work projects will be around the thematic of reconstruction. 
Considered to be the town-planner of the new downtown Mulhouse where he comes from. He will create residential complexes and the largest French structure at that time: the Perret Tower also called "Tour of Europe" in Amiens, long considered the tallest skyscraper in Western Europe. This architect is also specialized in other forms of urbanization such as the development of city centers. He will also become the creator of the beautiful Lake City of PORT GRIMAUD located in the Var, region of Provence Alpes Côte d'Azur. Respecting the local heritage of the Gulf of Saint-Tropez, François SPOERRY build PORT GRIMAUD to make his dream come true and becoming a sailor who moor his boat in front of his house… 
His trademark throughout his career will be a conception of human architecture that integrates subtly and intelligently into its environment, a so-called "soft" architecture. He began his major project in PORT GRIMAUD in the 1960s, as a promoter and maritime architect.  His ambition was to create a harmonious integration of the building in the environment. François SPOERRY became known around the world thanks to the masterful realization of this lacustrine city, which was a great success and an international passion in short time, that brought him a great reputation. He will be called all around the world to build urban projects of this kind. He wrote a book entitled "The Sweet Architecture" which introduces readers to his philosophy and the beginnings of his Art to build a concept both urban and maritime, with harmony. The architect wanted to realize his dreams related to his design of the habitat.
Also, a forerunner for other ingenious inventions such as the electric car "Minicar" patented in 1975, which today reminds us of some prototypes of vehicles on the automotive market, such as the Mercedes "Smart" design or the Renault "Twizy" concept, marketed with success. 
But mainly, the project of François SPOERRY has been the construction of humble and functional houses shaped with recycled materials and modeled by reliefs in facades and a typical spoerry-enne asymmetry, such as PORT GRIMAUD. An architecture where the maritime space is totally incorporated into the urban space of the city, a so-called "lacustrine city".François SPOERRY's soft architecture will introduce the new urbanism movement a few decades later… PORT GRIMAUD will be his first creation and architectural achievement related to its own concept of housing. And Port Liberty will succeed in the United States in the bay of New York, following an American order.   The first applications of this reassuring soft architecture on a human scale is inspired by a modest art of living and a passion about the sea. François SPOERRY built a real lakeside lifestyle: his major architectural work. Founder of this avant-gardist architecture, François SPOERRY will be influenced very young by the tiny Lacustre models. When he was a little boy at 6 years old, he regularly visited the Zurich Museum, and he liked these small huts on stilts and their little canoe. When he grows up, he imagines living near the water with his boat to moor in front of his door and living his first passion: sailing.
His first vocation was to enter the navy as an officer, he will not be able to fulfill his dream because of a little problem of sight. Despite this small handicap, he knew how to overcome this difficulty by managing to achieve major architectural designs. He had a vision and was a forerunner in the field of habitat design. By defying the constraints of space and environment he managed to build construction with an international size and scope: François SPOERRY become a master in architecture.
Despite the difficulties, His PORT GRIMAUD project started 2 years after waiting for a building permit. And François SPOERRY succeeds in concretizing his project by incorporating it ingenuously and environment successfully into his as a lake city, today called "the Venice of Provence".                                                 
This is how François SPOERRY became one of the greatest architects with an international renown, in the 20th. Born at the beginning of the last century, on December 28th 1912 in Mulhouse, he died on January 11th 1999 and rests today in the ecumenical church, which he himself designed, in PORT GRIMAUD.